1949 Beechcraft
A-35 Bonanza N494B
serial number D-1514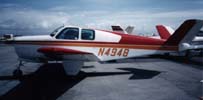 N494B is an old airplane. However, considering the maintence and upgrades it has received over the past half-century, it is in excellent condition and comfortably equiped. Some of the modifications done to it include:
Continental E-185 engine upgraded to an E-225. This gave the plane a extra 40 horsepower.
35 amp generator replaced by a 50 amp alternator.
The instrument panel has been upgraded from the orignal factory panel.
Flap and aileron gap seals have been added to improve the already good slow speed handing.
Nose gear doors extension
M model square style wing tips
Center section updated to remove an ugly recurrent airworthness directive.
Beech prop replaced with a Hartzel. Considering the current airworthyness directives on the Hartzel, this might not be considered an advantage.
Like with any plane, there is a long wish list of improvements. These include
Paint. After an incident in 1994, the plane despartly needs to be re-painted. The paint before the incident was fair, but after three years of repairs and upgrades it really needs it now.
Instruments. Primarly this would be an engine analyzer. JPI makes one that would be very nice.
Radios. N494B is marginally IFR capable with the radios it has now. The biological flight control system is VFR only. The plan is to make the BFC ifr capable and add in an GPS/comm system and a low end autopilot. This would make the plane more suited for the occasional light IFR mission. Not much more than than is needed as the said BFC is something of a coward.
Some other locations for information on Bonanzas (old and otherwise):